Steven L. Pettis was born September 3, 1963 in Chicago, Illinois to Pastor Matthew and Gussie Pettis. At an early age, he knew his divine assignment would be to preach the Gospel of Jesus Christ. As a young Christian, after being filled with the Holy Ghost during a first Sunday testimonial service, his ministry began by witnessing in the streets of Chicago. He ministered to the poor, the broken-hearted, the captives, and the bruised. He prayed and laid hands on the sick while the Lord confirmed His Word with signs and miracles. It was during his street ministry where he witnessed his first miracle on Halsted Street as he prayed for a crippled man, only to see God's miraculous power straighten his leg out. God has used Apostle Pettis in countless prayer lines to minister to the people.
On October 22, 1983, he married Lora Vernell. They have four children: April, Steven Jr., Krystal and Brian who are all very active in the ministry. The life of Apostle Pettis is one in complete fellowship with God, understanding his assignment to the Body of Christ.
"Our mission is to cultivate an environment of faith in the incorruptible Word of God, enlightening the world with the biblical principles that lead to you becoming a better you."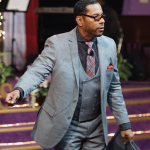 Wherever he ministers, he brings revelation knowledge that has caused many breakthroughs in the lives of the people. He has been a Senior Pastor since 1996 under the former name of Holy Trinity Church, which changed its name in December 2011 to Better Life Faith Church International. God has called this ministry to better the lives of people everywhere through demonstration and the teaching and preaching of the Word of God. He is the Founder of Steven Pettis Ministries (SPM) and founder and president of the Prepared Soldiers School of Ministry. He is also the founder of Covenant Kings Alliance (CKA), a fellowship designed for Christian businesses and entrepreneurs in developing and enhancing their purpose for the Kingdom.
He has authored several books which have been translated into Spanish and were distributed in Central and South America. His weekly television program, "Living the Better Life" has been seen around the world. His new weekly broadcast of "Living the Better Life" can be seen and heard around the world via television, radio and internet. Apostle Pettis has been the recipient of several awards for his Christian service and leadership. Apostle Pettis has been anointed to raise up leaders, and to help the believers walk in faith and victory, to be an effective witness and a light to the world.
On February 1, 2008, he was consecrated an Apostle by the honorable Apostle Dr. Richard D. Henton of Monument of Faith Breakthrough Ministries. He received an honorary doctorate by Hope Bible Institute and Seminary in September 2008 and was ordained and serves under Faith Ministries Alliance (FMA) under Dr. Bill Winston of Living Word Christian Center. Dr. Steven L. Pettis is truly one of our end-time voices before the return of Jesus Christ.
Our Vision
To lead souls into the Body of Christ

To lead souls into the Body of Christ so that through Jesus they may experience victory over spiritual death and lack of all kinds.

To raise up a nation of spiritually mature disciples

To raise up a nation of spiritually mature disciples who live by faith and invite the Kingdom of God into their everyday environment.

To raise up Kingdom citizens

To raise up Kingdom citizens who operate in THE BLESSING, liberated from the world's Babylonian financial system.

To teach the world how to prosper

To teach the world how to prosper spiritually, physically and mentally.

To utilize every available outlet to affect nations

To utilize every available outlet to affect nations with the life-transforming word of faith with the spirit of excellence, abundance and compassion.